<!?php if ($breadcrumb): print $breadcrumb; endif; ?>
Lizelle Gerber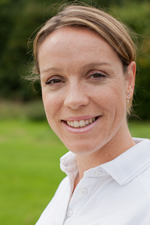 Lizelle Gerber MCSP
Physiotherapist
Lizelle graduated from The University of the Free State - South-Africa in 2001. She worked in private practice in South Africa for a short period before coming to the UK. Since being here she has worked at various NHS and private hospitals and spent her first year specialising and treating neurological conditions.
She then moved into outpatients where she has worked for the past three years specialising in the treatment of musculo-skeletal conditions.
Her own particular interests of clinical interest include Women's Health and the treatment of pelvic pain, biomechanical evaluation and assessment of musculo-skeletal problems associated with the lower limb and she has a particular interest in the use of acupuncture which she likes to incorporate with her musculo-skeletal treatments for the treatment of pain.
Lizelle is also a keen runner and squash player.